Canal+ – Teaser
For its new season trailer, Canal+ was looking for a new format using animation. Quickly, it seemed obvious to us to create a film using pixel art. Actually it was a great way to impact a wide audience: people in their 40s and 50s nostalgic for Pacman and younger viewers who are the digital generation, fans of pixel art and crazy about video games like MineCraft.
The idea was to create a video clip mixing the TV shows' presenters, the series characters, the big sports events and teases of the major movies the channel will broadcast this season, all treated in "pixelized" design.
"I asked for something very singular: to be able, within 5 minutes, to mention all the programs of Canal's new season and to be very festive and cheerful."
Olivier Schaack — Artistic director of Canal+
"At Gédéon, our starting point is always to ask ourselves: what does the audience want and expect from this brand ? The idea of pixel art and 8bit references came right away. For me it is almost part of the DNA of Canal+."
Emmanuelle Lacaze — Producer
"When I first saw the design of the characters, immediately I knew that was the right solution."
Olivier Schaack, Artistic director of Canal+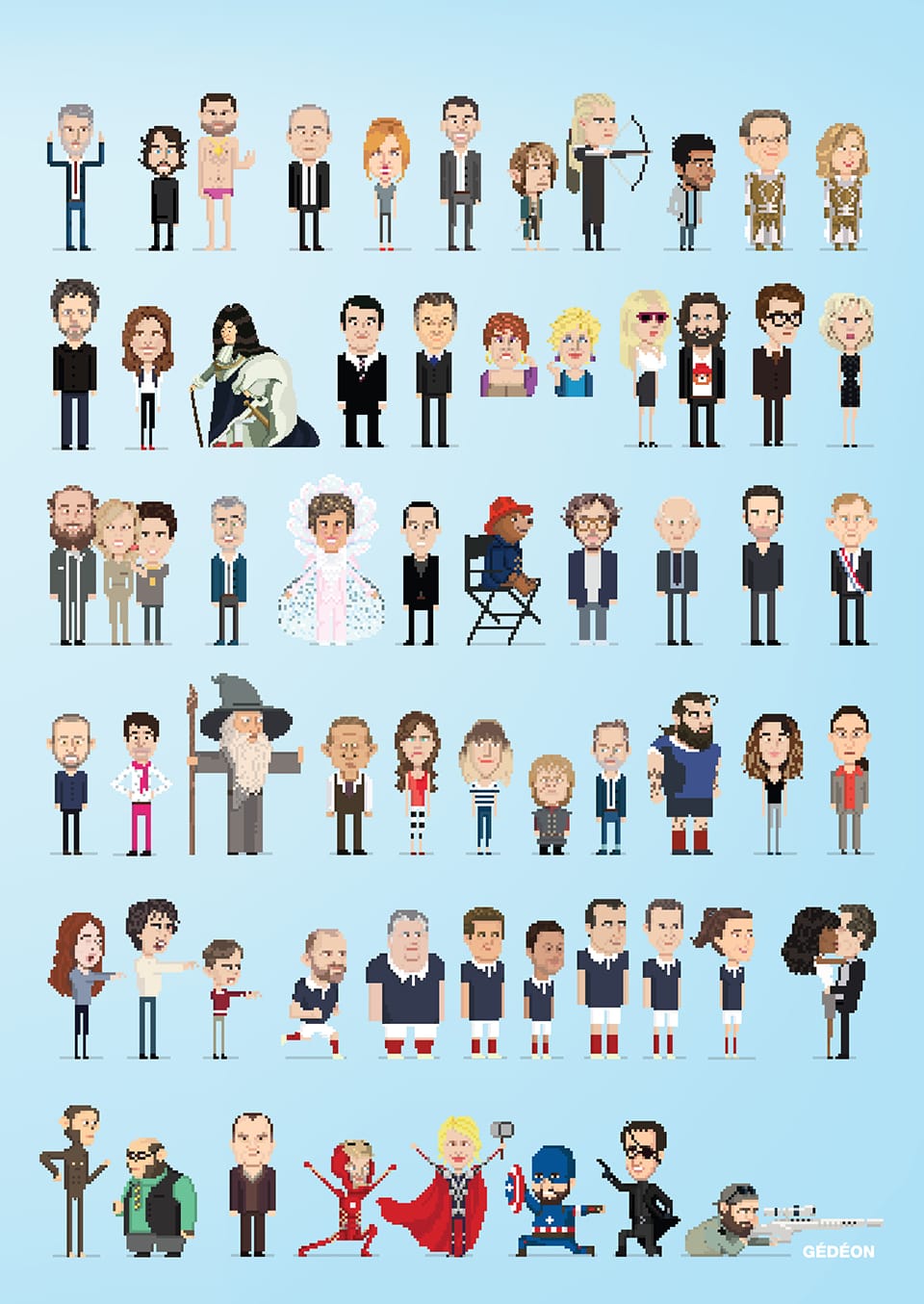 "Once we had this graphic basis of pixel art, very 80's, we found talents adapted to this project. We chose an animation director, Nicolas Lhomme, with whom we have collaborated for a long time; and a feature movies screenwriter Steven Mitz. He helped us in finding script tricks to manage several constraints : a limited duration, numerous and rich content."
Emmanuelle Lacaze — Producer
For the music, we were looking for a powerful song that would appeal to all the viewers. We decided to produce a cover from the 90s. "Freed from desire" matched perfectly with our images and with the rhythm of our trailer. We remixed Gala's song in an electro style and recorded it at the famous Rak studio in London with a children's choir to give the film a feeling of warmth and happiness. Convinced of the potential of this song, we contacted Universal who decided to launch the song under its Mercury label.
VIEWS ( AFTER 2 WEEKS)
+1,48M
IMPRESSIONS ON SOCIAL MEDIAS
+7.2M
Producer



 
Emmanuelle Lacaze
Director of the animated part of the film

Nicolas Lhomme
Scriptwritter
Steven Mitz
Animated part of the film team
Lucas Vallerie
Yoann Bouchard
Gaël Lucien
Nicolas Famery
Pierre - Baptiste Harrivelle
Stéphane Gibert
Floriane Turmeau
David Darmon
Maxime Baïle
Cédric Besseau
Music
Freed from desire / London Youngsters
(R. Gala / C. Andrea, M.Maurizio) / P 2015 Gédéon
Choir director
Lynda Richardson
Making of
Kok Natha Hen
Maxime Baïle
Production manager



Charlotte Vande Vyvre
Chrystel Mallet

Director of the live action part of the film
Steven Mitz

Director of photography
Christophe Graillot
Children's choir
Center of young musicians from London
awards
German Design Awards 2016 / Nominated in "Integrated Campaign and Advertising" category
French Art Directors Club / Club des DA de la pub 2015 / Nominated for "TV Design / Event"
French Art Directors Club / Club des DA de la pub 2015 / Nominated for "Best Soundtrack"
Promax BDA / Barcelone 2016 / Finalist for "Channel or program special event spot"
Eyes And Ears / Munich 2016/ Silver Award for "Best Viral"
Eyes And Ears / Munich 2016 / Silver Award for "Best 2D / 3D Animation"
Eyes And Ears / Munich 2016 / Gold Award for "Best design-related audio design"