SINCE
1984.
Gédéon is an independent creative agency and production company.
Our unique dual identity allows us to produce the concepts that we create. The agency was created for and by television, designing the on-air, print and online identity of the biggest channels.
We create fun and engaging audio-visual brand identities. We also create short form content for clients who understand that branding is about much more than just a visual rulebook. We launch collaborations with different agencies because exchanging ideas always produces creative and optimized solutions.
Gédeon
Creative company
in motion
32, Rue des Jeûneurs
75002 Paris
+33 (0)1 55 04 81 90
hello@gedeon.com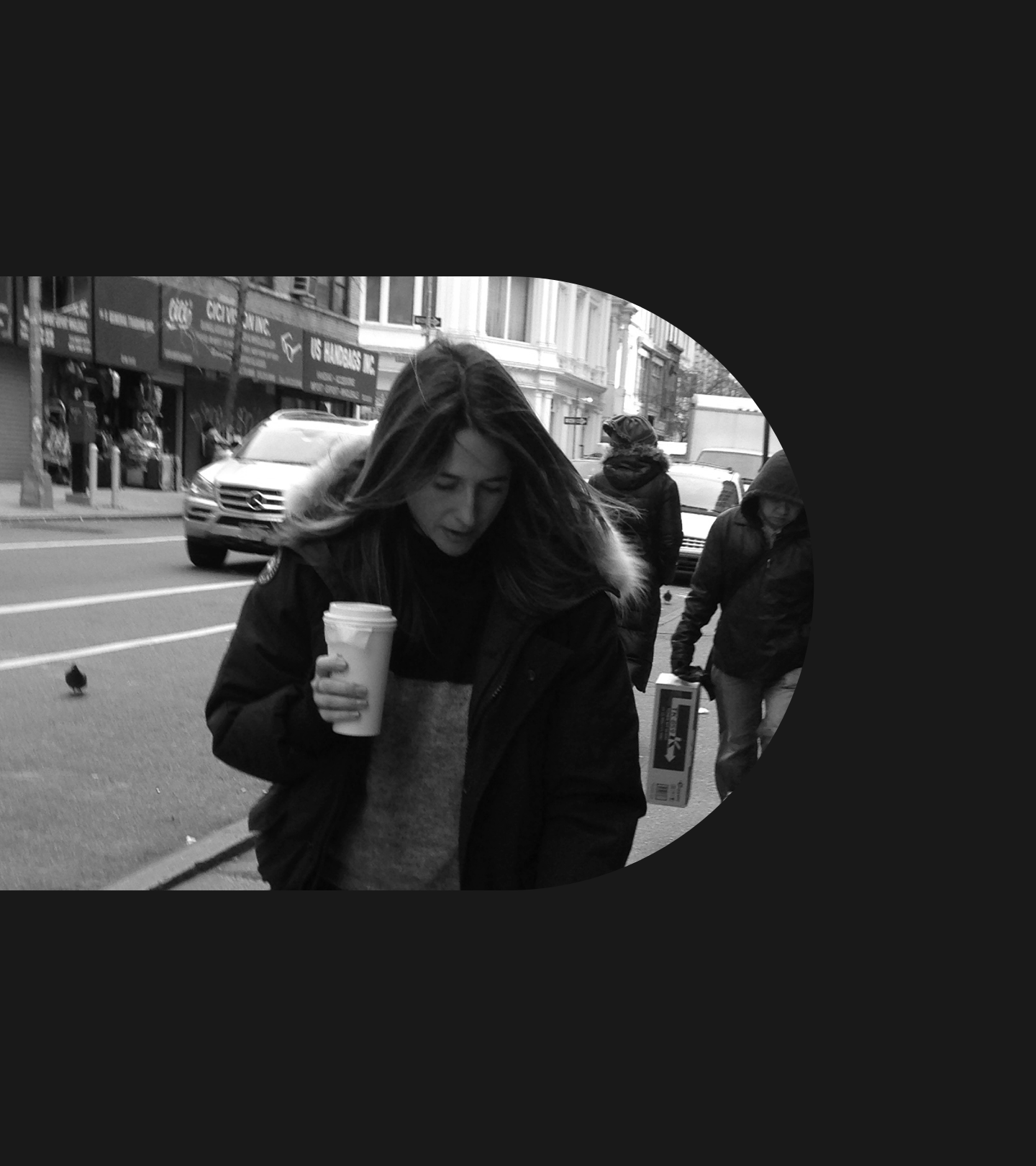 Emmanuelle Lacaze
Emmanuelle Lacaze is the President of Gédéon. She has headed thecompany since 2002.
She has managed and produced more than one hundred major projects in France, Belgium, Brazil, Mexico, Spain, Canada and Morocco, many of which have received awards.
In 2009, she created Numéro 4 production, a movie and series production company. Her first movie, "La vie d'une autre"  was released in 2012, starring Academy Award winner Juliette Binoche and Mathieu Kassovitz, directed by Sylvie Testud. It did about 400,000 tickets in France and has been sold in many countries.
In 2016, she developed the original idea of a premium digital series called "Joy". The series was shot in Los Angeles. It was produced for Studio+ (Canal + and Vivendi), the first app in the world dedicated to series especially adapted for mobile devices.
Bernard Bréchet
Joining Gédéon as a freelancer in 1995, Bernard Bréchet became partner of the company in 2002, and since then he has directed all of the agency's major projects both in France and around the world (Canada, Mexico, Brazil, Qatar, Spain, Belgium).
Equally dedicated to sharing his professional expertise, Bernard has taught extensively in France's most prestigious universities and design schools, including the Sorbonne, ECAL Lausanne, Ensaama, and ECV Paris. He has also taken part in juries for PromaxBDA, Art Directors' Club and Estienne, among others.
Gédéon is a flexible community of brand designers and producers always on top of the latest trends and cutting-edge advances in communications.
We love branding, typography, illustration, motion design, graphic design, film production and direction. We develop design identities for the biggest French and global TV channels and we also write, produce and direct films. A lot of films. From 10-second animated jingles, to shorts and feature films for TV and cinema, made for screens large and small.
| year | award | project | client |
| --- | --- | --- | --- |
| 2019 | Bronze Award at the Eyes and Ears 2019 for RMC Story in the category "Best Typographical Design" | RMC STORY - Rebranding | RMC Story |
| 2019 | Silver Award at "Club des DA" 2019 | OCS - NEW DESIGN | OCS |
| 2019 | Silver medal at Grand Prix Stratégie de l'innovation média 2019 | W9 - Global redesign | M6 |
| 2019 | Finalist at Promax Amsterdam 2019 for OCS in the category "On Air Idents Campaign" | OCS - NEW DESIGN | OCS |
| 2019 | Finalist at Promax Amsterdam 2019 for RMC Story in the category "On Air Typography" | RMC STORY - Rebranding | RMC Story |
| 2019 | Finalist at Promax Amsterdam 2019 for W9 in the category "Channel Logo Design across Multiple Media" | W9 - Global redesign | M6 |
| 2019 | Finalist at Promax Amsterdam 2019 for VTM Nieuws in the category "Set Design" | VTM NIEUWS - Rebranding | Medialaan |
| 2019 | Finalist at Promax Amsterdam 2019 for W9 in the category "General Brand Design Package" | W9 - Global redesign | M6 |
| 2018 | Cristal Festival / Cristal Festival 2018 / Shortlisted for "best brand identity" in Design Category | RMC STORY - Rebranding | RMC Story |
| 2018 | Eyes and Ears Europe / Munich 2018 / Bronze Award for "Best Bumper/Station ID Package" | RMC DÉCOUVERTE - Rebranding | RMC Découverte |
| | | | |
| --- | --- | --- | --- |
| 2019 | Finalist at Promax Amsterdam 2019 for W9 in the category "Channel Logo Design across Multiple Media" | W9 - Global redesign | M6 |
| 2019 | Finalist at Promax Amsterdam 2019 for VTM Nieuws in the category "Set Design" | VTM NIEUWS - Rebranding | Medialaan |
| 2019 | Finalist at Promax Amsterdam 2019 for W9 in the category "General Brand Design Package" | W9 - Global redesign | M6 |
| 2018 | Cristal Festival / Cristal Festival 2018 / Shortlisted for "best brand identity" in Design Category | RMC STORY - Rebranding | RMC Story |
| 2018 | Eyes and Ears Europe / Munich 2018 / Bronze Award for "Best Bumper/Station ID Package" | RMC DÉCOUVERTE - Rebranding | RMC Découverte |
| 2018 | French Art Directors Club / Paris 2018 / Silver Award for "Best Global design for a channel" | POLAR+ | Canal + |
| 2018 | French Art Directors Club / Paris 2018 / Gold Award for "Best ad breaks" | RMC DÉCOUVERTE - Rebranding | RMC Découverte |
| 2018 | French Art Directors Club / Paris 2018 / Nominated for "Best Global design for a channel" | LCI GLOBAL REDESIGN | LCI |
| 2018 | French Art Directors Club / Paris 2018 / Nominated for "Best sound" | POLAR+ | Canal + |
| 2017 | Cristal Festival / Cristal Festival 2017 / Bronze Award for "series / webisodes" in digital category | JOY | |
| 2017 | L.A web Festival 2017 / Nominated for "Outstanding Editing" | JOY | |
| 2017 | L.A web Festival 2017 / Nominated for "Outstanding Cinematography" | JOY | |
| 2017 | L.A web Festival 2017 / Nominated for "Outstanding Directing" | JOY | |
| 2017 | Young Entertainer awards / Nomination for Savannah Lathem "Best Supporting young actress" in "TV, Movie, Mini series" category | JOY | |
| 2017 | French Art Directors Club / Club des DA de la pub 2017 / Nominated in "Broadcast Design" category (Global Package) | Cstar - Global Redesign | Cstar |
| 2017 | Promax BDA / Amsterdam 2017 / Bronze Award for "On Air Typography" | Cstar - Global Redesign | Cstar |
| 2017 | French Art Directors Club / Club des DA de la pub 2017 / Nominated in "broadcast design" category for the idents | France 4 - Global Redesign | France Télévisions |
| 2017 | Promax BDA / Amsterdam 2017 / Gold Award for "Best On Air Ident Campaign" | OCS | OCS |
| 2017 | Promax BDA / Amsterdam 2017 / Bronze Award in "Logo design using multiple media" | La Sexta - Global Redesign | Atresmedia |
| 2017 | Promax BDA / Amsterdam 2017/ Bronze Award for "General Brand Design Package Channel, Network or Platform" | Playmore - Global Redesign | Télénet |
| 2017 | Promax BDA / Amsterdam 2017 / Silver Award for "General Brand Design Package Channel, Network or Platform" | La Sexta - Global Redesign | Atresmedia |
| 2017 | French Art Directors Club / Club des DA de la pub 2017 / Nominated for "Best global package" in "Broadcast design" category | La Sexta - Global Redesign | Atresmedia |
| 2017 | Eyes and Ears Europe / Munich 2017 / Silver Award for "Best sports design" | ASO Tour de France 2017 | ASO |
| 2017 | Eyes and Ears Europe / Munich 2017 / Gold Award for "Best lead-in: Kids" | Piwi+ - Tes livres s'animent | |
| 2016 | Eyes And Ears / Munich 2016 / Silver Award for "Best 2D / 3D Animation" | Canal+ - Teaser | Canal + |
| 2016 | Eyes And Ears / Munich 2016/ Silver Award for "Best Viral" | Canal+ - Teaser | Canal + |
| 2016 | German Design Awards 2016 / Winner in "audiovisual : excellent communications design" category - corporate rebrand | France 4 - Global Redesign | France Télévisions |
| 2016 | German Design Awards 2016 / Special mention in "Audiovisual: Excellent communication design" category | OCS | OCS |
| 2016 | German Design Awards 2016 / Nominated in "Integrated Campaign and Advertising" category | Canal+ - Teaser | Canal + |
| 2016 | Promax BDA / Barcelone 2016 / Finalist for "Channel or program special event spot" | Canal+ - Teaser | Canal + |
| 2016 | Eyes And Ears / Munich 2016 / Gold Award for "Best design-related audio design" | Canal+ - Teaser | Canal + |
| 2016 | Eyes and Ears / Munich 2016 / Silver Award in "Best new corporate design package" | La Sexta - Global Redesign | Atresmedia |
| 2015 | New-York Festivals / 2015 / Silver World Award for "Best station/image promotion" | France 3 - Global Redesign | France 3 |
| 2015 | Red Dot Awards / Berlin 2015 / Grand Prix Category | France 4 - Global Redesign | France Télévisions |
| 2015 | Promax BDA Europe / Berlin 2015 / Silver Award in "Best general brand design package" category | France 4 - Global Redesign | France Télévisions |
| 2015 | Promax BDA Europe / Berlin 2015 / Silver Award in "Best use of social media for channel promotion" category | France 4 - Global Redesign | France Télévisions |
| 2015 | Promax BDA Europe / Berlin 2015 / Silver Award in "Best interstitial short form spot design" category for "jingles pub mash-up/ad breaks." | France 4 - Global Redesign | France Télévisions |
| 2015 | EBU Connect / Cavtat 2015 / Silver Award in "Best channel branding" category for "global identity" | France 4 - Global Redesign | France Télévisions |
| 2015 | EBU Connect / Cavtat 2015 / Nominated in "Best campaign for digital product/service" category for "mash-up app" | France 4 - Global Redesign | France Télévisions |
| 2015 | French Art Directors Club / Club des DA de la pub 2015 / Nominated for "Best Soundtrack" | Canal+ - Teaser | Canal + |
| 2015 | French Art Directors Club / Club des DA de la pub 2015 / Nominated for "TV Design / Event" | Canal+ - Teaser | Canal + |
| 2015 | Red Dot Awards / Berlin 2015 / Red Dot Award Idents and jingles for "All for one, one for all" | France 3 - Global Redesign | France 3 |
| 2015 | Promax BDA Europe / Berlin 2015 / Silver Award in "general channel image campaign using multiple media" | France 4 - Global Redesign | France Télévisions |
| 2015 | Promax BDA Europe / Berlin 2015 / Gold Award for "Design: Best on-air ident campaign (out-of-house)" | France 3 - Global Redesign | France 3 |
| 2014 | Promax BDA Europe / London 2014 / Silver Award for "Best Interstitial/Short Form Spot Design" | France 3 - Global Redesign | France 3 |
| 2014 | Promax BDA / London 2014 / Nominated in "Best dramatic programme spot(s)" category | OCS | OCS |
| 2014 | Eyes and Ears Europe / Munich 2014 / Gold Award for "Best bumper or station-ID package" | OCS | OCS |
| 2014 | Eyes and Ears Europe / Munich 2014 / Gold Award for "Best global design package" | OCS | OCS |
| 2014 | Promax BDA / London 2014 / Silver Award for "Best key art poster" category | OCS | OCS |
| 2014 | Eyes and Ears Europe / Munich 2014 / Silver Award in "best ad breaks" category | France 4 - Global Redesign | France Télévisions |
| 2014 | French Art Directors Club / Club des DA de la pub 2014 / Shortlisted in "typography" category | France 4 - Global Redesign | France Télévisions |
| 2014 | French Art Directors Club / Club des DA de la pub 2014 / Shortlisted in "channel design – promotional jingle" category | France 4 - Global Redesign | France Télévisions |
| 2014 | Eutelsat TV Awards 2014 / Nominated in "Entertainment" category | OCS | OCS |
| 2014 | Promax BDA Europe / London 2014 / Silver Award for "Best Interstitial/Short Form Spot Design" | France 3 - Global Redesign | France 3 |
| 2014 | Promax BDA Europe / London 2014 / Silver Award for "Best key art/poster" | OCS - TV AD | OCS |
| 2011 | French Art Directors Club / Paris 2011 / Nominated for "Best Ad Breaks" | France 3 - Global Redesign | France 3 |
| 2011 | French Art Directors Club / Paris 2011 / Nominated for "Best Idents" | France 3 - Global Redesign | France 3 |
| | Cristal Festival / Cristal Festival 2017 / Bronze Award for and for "best webisodes over 3 minutes" in online video category | JOY | |
| | Eyes and Ears Europe / Munich 2015 / Nominated for Best Sport Design | PLAY SPORTS - Rebranding | Télénet |
| | Grand Prix Stratégie / Silver Media Changers Award for « Best channel identity » in « Editorial innovation initiatives » category | RMC DÉCOUVERTE - Rebranding | RMC Découverte |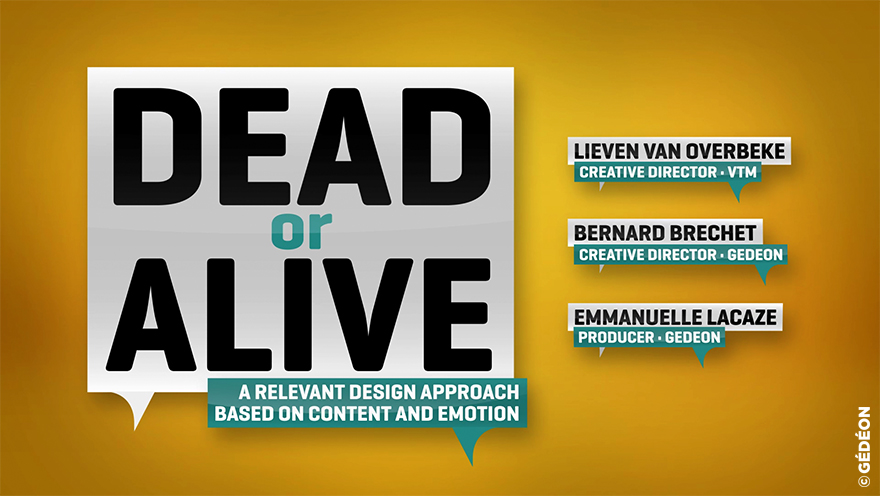 Mentions légales
Gédéon Communications
Société par actions simplifiée au capital de 57 433,60 euros
This website uses cookies for statistics and sharing purpose.
Siège social
32 rue des Jeûneurs 75002 Paris
RCS Paris 332 126 564
TVA Intracommunautaire FR69 332 126 564