Tv is (not) dead (yet) : episode 1
Tv is (not) dead (yet) : episode 1
Today's world is fluid. So, as designers, we have to be agile thinkers and capable of not only understanding who our clients are, but also the complex and hybrid industries that they work in if we want to be able to deliver the best creative solutions.
In this 5 part series which runs through till Friday, we will examine the main pressures that are shaping the European television market and show how our profession – design – is essential in order to survive in today's rapidly changing TV world.
We are Gédéon. A creative agency and production company that designs visual identities and creates on air, digital and print communication tools for TV channels as well as for many other types of brands.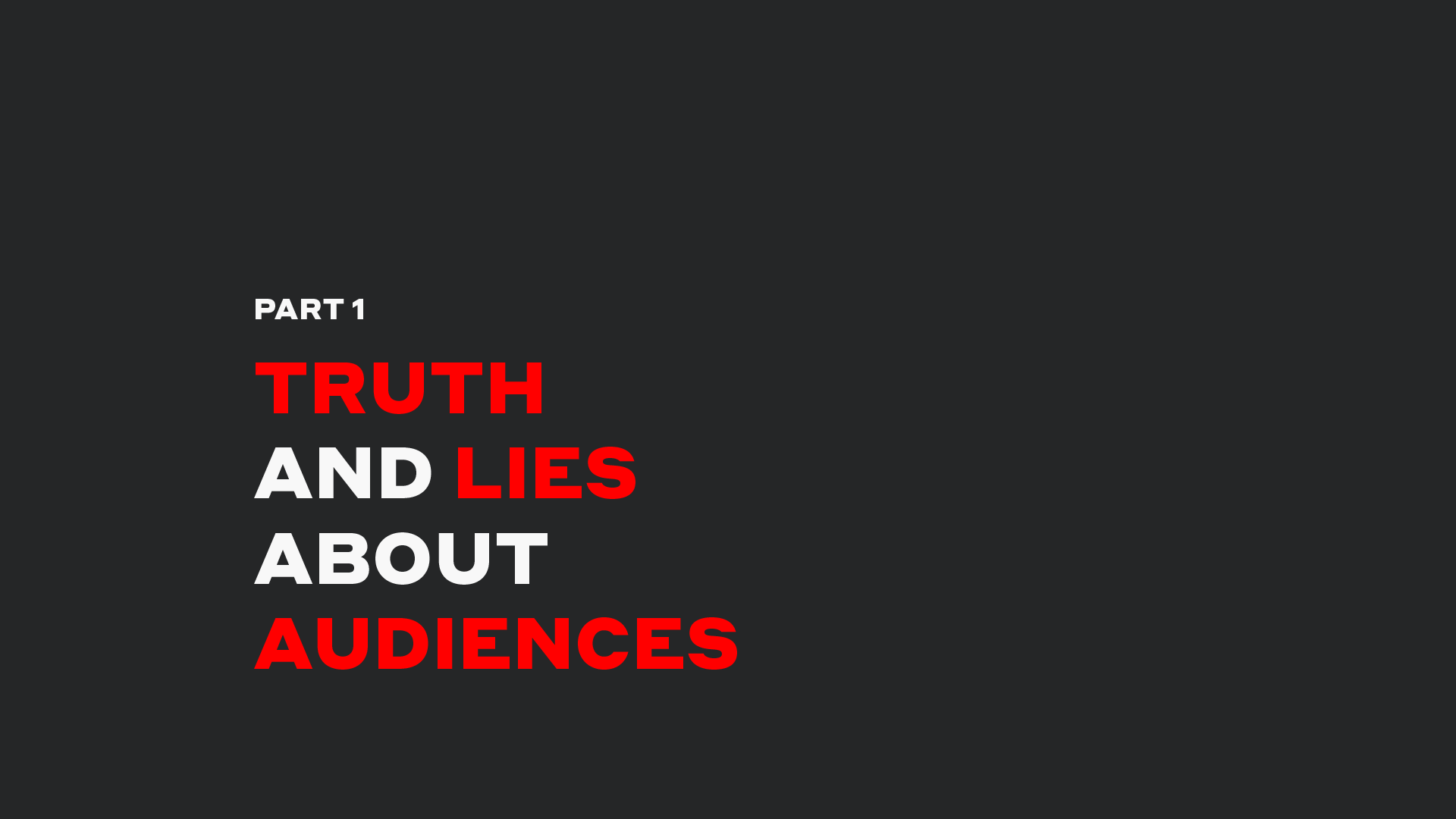 Things are not sounding good for traditional TV today according to the media critics.
On the other hand, TV still seems to hold a unique value for audiences and advertisers alike.
Over the last 25 years global TV viewing has remained relatively steady – despite the increasing availability of video content online.
Europeans are still watching approximately 4 hours of TV per day, and new viewing methods, such as catch-up or time-shifted TV, as well as connected TV devices, only add to the total audience figures, which still make up 89% of media consumption.
What's more, research from the European Commission, shows that TV sets, not the Internet, remain the leading gateway to watching TV content in Europe.
So why is TV still relevant to audiences?
"TV brings people together, it helps us understand each other
and share a common national story. And people are hungry for that."
Tony Hall, BBC General Director
Even though the director of the BBC is speaking from the point of view of a public service channel, he touches on an important truth: Television and TV formats such as live events, sports matches, news programs and other local content, still attract large audiences, both for the moments of relaxation and togetherness that they can provide.
A UK study from 2018 showed that live TV satisfies more of viewers' needs, -such as unwinding and distraction- than any other media.
Furthermore, in response to ongoing globalisation, audiences are increasingly interested in seeing global ideas at a local level. This trend can be seen in the news industry, where, despite the shift to digital information, TV news broadcasts continue to attract significant audiences -as we can see from these increased figures in France last year.
TF1's 8pm news in France
gained 140K viewers
in the 2017-2018 season 
and France 2 gained 220K.
And let's not forget another reason why TV remains valuable…
Unlike Google or YouTube, television still guarantees an unmatched level of brand safety for advertisers, who, as you all know, are a key element of the business.
So, is TV really dead? We're not so sure that it is. What we do know is that TV channels can no longer rely on their current market positions or the current form they take. Let's have a closer look at what pressures they are under…
Thanks to technology, it's never been easier to watch what you want, whenever you want and wherever you want. Things like high-speed internet, cheap and efficient mobile devices, apps, and Big Data continue to drive dramatic shifts in audiences' viewing habits and demands.
Take, for example, the impact of time-shifted TV viewing in Europe, which is one of many innovations that is fueling the transfer of conventional TV audiences to digital streaming platforms.
Linear TV's average global growth has been forecast to stagnate while OTT services' continue to explode.
Linear TV's 0.8% average global growth compared to OTT service's 14.2%
Netflix is the leader of the pack, dominating the globe with an audience of nearly 140 million paying subscribers while Amazon and Hulu follow behind.
And across Europe (our focus), all streaming platforms hold an increasingly significant market share.
"We compete with (and lose to) Fortnite more than HBO."
From VOD to Gaming, TV is now up against a variety of actors, who are all taking a large slice of the (audience) pie.
In fact, Youtube, not Netflix, is the most consumed video-on-demand medium, especially among younger generations.
Social media platforms are also increasing their share in the user attention economy.
Many of these businesses are now seeking to expand into long-form video formats.
Take for example the ongoing development of Instagram TV, or Facebook Watch, who are reportedly looking into buying sports rights with an interest in offering live content.
30 million users on You Tube per day.
300 million users on Instagram stories per day.
75 million users on Facebook Watch per day.
Source BBC Research, 2018 - Reuters Digital News Report 2018
This is what makes the new landscape so complex; brands as diverse as Youtube, Disney, Vice and Red Bull are all vying for a share, but each in their own way.
This is a big challenge for traditional TV channels, and for us as designers. We need to understand the brand's logic and individual strategy before we can integrate these into our creative reflections.
So what are the priorities?